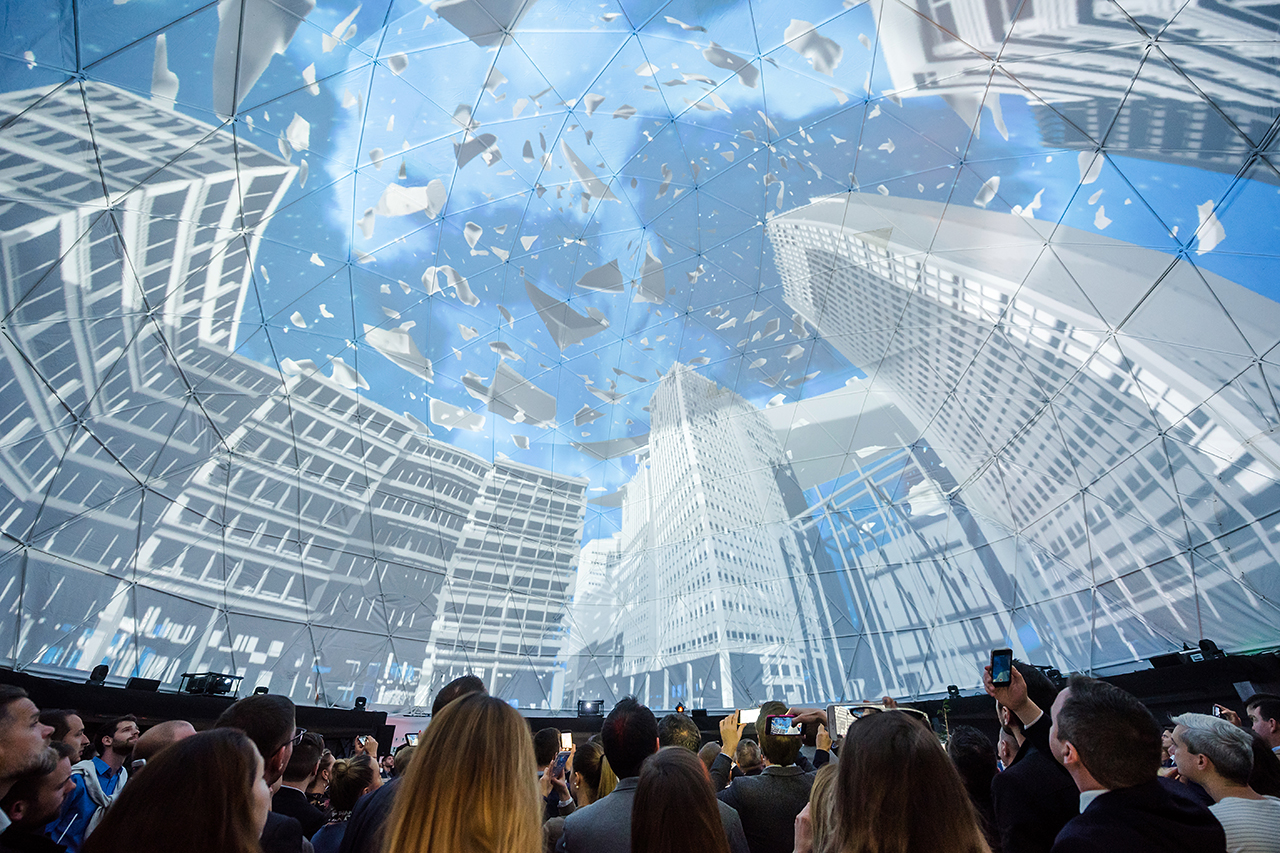 November 19 — 2018
The exceptional groundbreaking ceremony of Agora Budapest has taken place
The city-scale investment, the development of Agora Budapest to be built at the foot of the Árpád Bridge has entered a new stage. HB Reavis celebrated the project and the conclusion of a large-volume lease agreement with Raiffeisen Bank at the groundbreaking ceremony with innovative, spectacular solutions.
The exceptional and ceremonial groundbreaking of Agora Budapest took place on 15 November, marking an important milestone for the investment: the new city centre being built in the heart of the Váci út office corridor will make every day more enjoyable for those living and working in the neighbourhood with sustainable, modern architecture, green areas and friendly community spaces. The city administration of Budapest was represented by Deputy Mayor Dr. Gábor Bagdy and the local government of District 13 by district mayor Dr. József Tóth, who emphasised the livability of Budapest city and the capacity of District 13 to attract capital, as 40% of the real estate developments in the capital city are built in the district.
During the virtual groundbreaking the sight of the central area of Agora, visualised by a 360° 3D "project mapping show," met the eyes of the visitors. The spectacular solution was preceded by lengthy preparation, during which a grassy park and pop-up stores, including cafés, restaurants, a florist and a barber salon, all also operating during the event, were placed in the 15-meter high dome specially designed for the event so that visitors could easily see themselves in the central area of the completed Agora. Unlike usual outdoor locations, the terrain of the investment posed several challenges: the installation of the event lasted a week with the participation of nearly 50 workers.
The exceptional idea of HB Reavis is innovative in many ways: this was the first time in Hungary that a dome was built on top of construction containers, the placement of which took 22 working hours and needed a 60-ton crane. The guests of the ceremonial groundbreaking were the first in Hungary to see a 360° project mapping show. It consisted of 12,600 frames rendered by 50 computers over 600 hours, all under the supervision of 7 experts.
HB Reavis recently announced that a significant part of the first building was leased to Raiffeisen Bank, so from the beginning of 2020 Agora Budapest will host the bank's Hungarian headquarters. Therefore, the company also celebrated the agreement at the groundbreaking ceremony.